Young Afghans cling to past despite West's best efforts
KABUL, Afghanistan — Walk through the streets of Kabul, and evidence of the West's decade-long war literally clings to the Afghan youth: the American labels emblazoned on their shirts and jeans, the stylish sunglasses they wear, the cell phones they clutch to update their lives on Twitter and Facebook.
To those who like to think that the foreign presence here has left more than spent shells and hollowed-out buildings, what the young people of Kabul wear and value can itself offer a sense of comfort. These trappings of the West, the hope goes, belong to a generation ready to embrace women's rights, democracy and other ideals that the United States and its allies have spent billions of dollars trying to instill.
But interviews with dozens of Afghan youth paint a picture of a new generation bound to their society's conservative ways, especially regarding women's rights, one of the West's most important efforts here. Attempts to alter women's roles in society remain controversial among the younger generation, perhaps the starkest example of the West's limited influence as coalition forces prepare to withdraw next year.
"If someone thinks that youngsters have changed, they should think twice," said Amina Mustaqim Jawid, director of the Afghan Women's Coalition Against Corruption. "These young men grew up in a war environment. They don't know about their own rights; how can we expect them to know about their sisters' rights, their mothers' rights or their wives' rights? If they wear jeans and have Western haircuts, that doesn't mean they are progressive."
Even in Kabul, one of the most liberal cities in Afghanistan, many young men and women express beliefs that fly in the face of messages coming from U.S. Embassy outreach efforts. Censorship, particularly when it comes to religious offenses, summons little ire. Many consider democracy a tool of the West. And the vast majority of Afghans still rely on tribal justice, viewing courts as little more than venues of extortion.
On a recent afternoon, young women gathered on the third floor of a wedding hall, enduring the heat in black niqabs to protest a recently proposed law aimed at protecting the rights of Afghan women. The men remained outside, forming a barricade along the busy street to prevent strangers from entering the hall.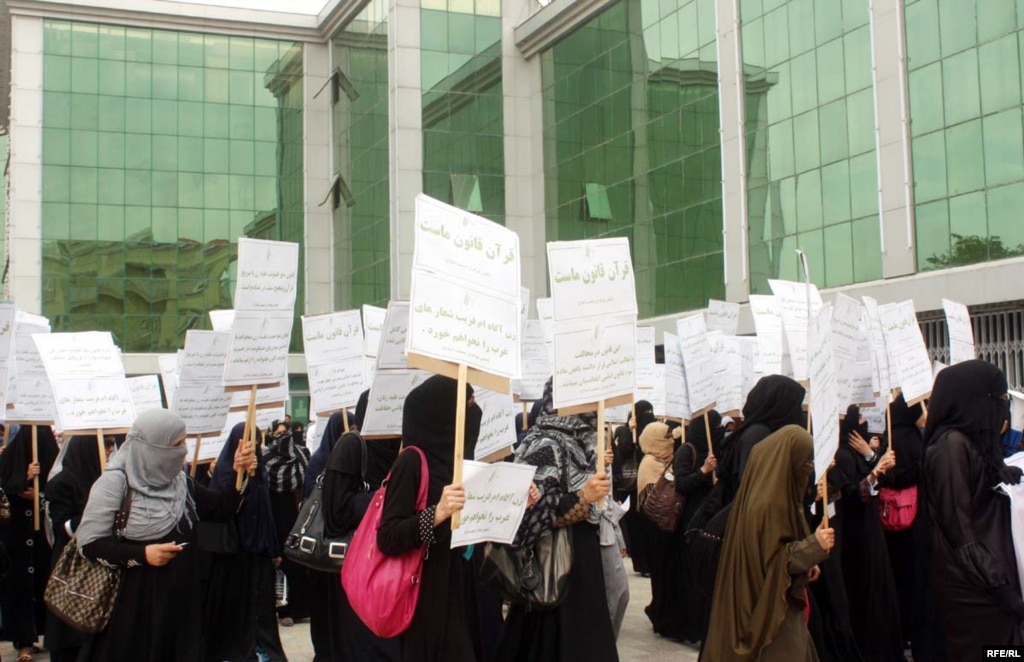 "This law is not only against Islamic values; it is also against all other ethical values," one protester, Saida Hafiz, said to a crowd of about 200 young women and children assembled in the room. "If we remain silent today, soon our society will be morally corrupted, like that of the West."
Group taxi rides serve as Kabul's de facto bus system. On a recent evening, a few men piled into a dusty minivan headed for Taimani 2, an area in West Kabul.
As the minivan lurched along, the men chatted about a recent shoe-throwing fight between two female parliamentarians.
"Who let these women into Parliament?" said an old man, his knees pressed against his chest. "Women were meant to stay at home."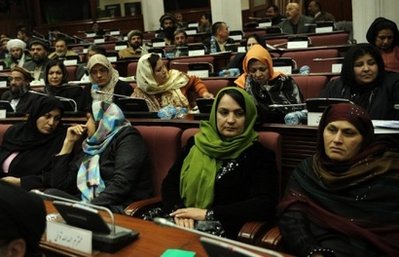 A young man seated beside him, books on his lap and dressed in a blue T-shirt and gray pants, nodded agreement.
On another trip, from the neighborhood of Kolola Pushta back downtown, a young student from the Afghan-Korea Vocational Institute, brought up a recent Western public art project, where young men and women doled out pink balloons to passers-by.
The Kabul Diaries 3: Pink Balloons | The World Breaks Everyone
"Did you see what those girls were wearing?" he asked another passenger, citing the women's short sleeves and fitted pants. "If my sister dressed like that, I would kill her."
Protests proliferated in the days after the bill concerning women's rights was introduced. While lawmakers almost immediately blocked it, given religious leaders' outcry, supporters promised to reintroduce the legislation, setting off a wave of debate. The measure would essentially cement rights ostensibly in place by presidential decree for several years — including protections against child marriage, polygamy and violence against women.
About 200 male students at the gates of Kabul University, the nation's most prestigious public university, called for an end to the bill and the presidential decree.
In reality, a lot of what is thought to be Islamic law in Afghanistan is actually tribal tradition. Some of the most severe cultural practices, such as selling young girls to pay off debt, are elements of a Pashtun tribal code that would be unacceptable in most other Islamic countries.
"That's a huge problem," said Din Mohammad Gran, Kabul University's Shariah law school dean, who does not support the women's rights bill. "Some people have a misinterpretation of Islam that they learned from the wrong sources."
While conservative voices are easy enough to find in and around the capital, Kabul is not without its progressive pockets. Groups such as Afghanistan 1400, a collection of young Afghan leaders committed to social and political change, are often cited as the vanguard of civic activism.
Corporate workplaces have also become surprising petri dishes for quiet activism. At Tolonews, one of the nation's largest television news organizations, men find themselves working for women, as economic realities scuttle normal social dynamics. This reflects what some observers say is the chasm between the public and private behavior of many Afghans, who are not as conservative as they seem.
"Our traditions and conventions are telling us one thing, and the realities on the ground are telling us something else," said Tolonews founder Saad Mohseni. "People are actually acting in a very different way from how they are talking."
Some young Afghan women have opted to speak out publicly for their rights. While they know their struggle lies along the outer edge of accepted social protests for women, activists such as Noor Jahan Akbar have adopted a long view. "After 30 years of war, what do you expect?" asked Ms. Akbar, a young blogger who helped organize a recent demonstration supporting the bill. "A mindset built over 100 years takes longer than 10 years to change."
source: Pittsburgh Post-Gazette
Related articles